Do Purpose: Why Brands with a Purpose Do Better and Matter More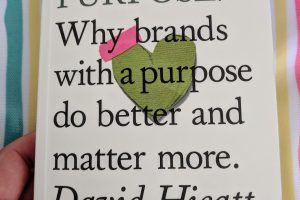 Authors
David Hieatt
Category
Business, Marketing
Synopsis
Part overarching advice, part argument, David outlines why he thinks your business should be purpose driven and, once persuaded (because he will persuade you), how you can implement it. He also throws in the odd tip on being an all round business extraordinair too.
If you haven't heard of him, David re-opened a previously shutdown denim factory in his home town of Cardigan, Wales. His purpose? To get his town making jeans again. Things were going pretty well for them until recently, when a certain American princess-to-be was spotted wearing a pair of his jeans.
As you can imagine, things are now going somewhat better than just pretty well…
What I took from reading it
Other books have made me skeptical of marketing buzzwords, with 'purpose' being a forerunner in the category. Buuuuuut, Hieatt makes a case for it. And a bloody good one at that.
He says that you need to pick your enemy and pick it wisely. It could be anything, deforestation, bad design, bad quality, bad manners even. Because this will become your drive. And thus, your purpose.
From the 'all round business extraordinair' category (that's not actually a chapter in his book by the way, just how I organised my takeaways) we have these nuggets:
Write your business plan as if you were doing so on a doormat. Finances and space limit what you'd be able to put, so you have no choice but to be concise to the point of cut-throat.
This lovely quote from Bill Withers: "You can't get to wonderful without passing through alright".
A cracker on how you should be dividing your time. If you pick up this book, you'll find it on page 55.
Who should read this book
It's worthwhile reading the arguments about the effects of tech, but, given this book was published in 2012 and before the peak smartphone boom, the arguments may be somewhat zeitgeist.
Nevertheless, it still makes for quick, entertaining and beneficial reading if the ad-industry and all that's wrong with it floats your proverbial boat.
Where to Buy
And just so you know, we have no affiliations. We don't answer for nothing to no one for nothing. Apart the market research guidelines, of course. Oh, and our clients. And our mums… But certainly no book publishers, authors or stockists 🙂
USA ¦ UK ¦ AUS ¦ Audible ¦ Book's Site