The100: Cynicism, Value and Häagen-Daz
---
Tips from Uncle Les
This 30 min talk from Les Binet about how to tweak your marketing plans in these uncertain times is a must watch. Not only does it provide a magnificent summary of where we find ourselves today, it also examines multiple factors that everyone should be aware of: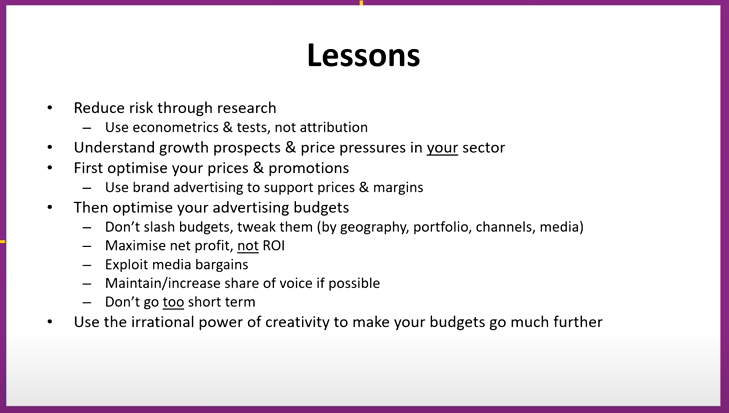 The stoical cynic
Martin Weigel has written another fantastic blog – how he does it every time, I don't know – this time on resisting cynicism. Oh yes he has.
"The American theologian Reinhold Niebuhr famously prayed for the serenity to accept the things he could not change, the courage to change the things he could – and the wisdom to know the difference. Timeless advice for life."
If you've ever been guilty of being cynical (erm) then you'll get a lot from this. A lot.
Value, devalued
Richard Madden (of BBH, not Game of Thrones) has pointed out how the word "value" has been, well, devalued. And is all too often being used in place of 'low prices'.
"Value is relative. It is what you get for the price you pay. And that differs from person to person […] If the concept of value you're talking about in the proposition doesn't address the emotional need described in the audience box above, take ten for a cuppa. Then come back and have another go."
On a not unrelated note, we only have ourselves to blame for the fact our stuff is actually worse now. We're not repairing, we're replacing. And we replace because products are being designed to be replaced, not repaired. Is that good value?
Much ado about umlauts
Did anyone else know that Häagen-Daz isn't actually Danish? It's not even Scandinavian. It's an American brand, using a completely made up set of words as its name.
The Consumer Behaviour Lab podcast discussed how and why Häagen-Daz built their success on foreign branding and price relativity (via @Storythings):
"We compare items to the easiest available alternatives. So if you as a brand can shift your mental comparison set, you can shift willingness to pay by orders of magnitude."
More lists
After the last edition's very popular lists, here are 2 more for you:
One more list (it's that time of year)
I'm fully embracing a Wet January here in the UK, but for those looking forward to February 1st, may I offer you this list of party ideas.
Some are excellent, some are fist chewingly terrible, and none I would ever go to. So save the invitations 😉