The100: Brand cannibalization, choosing a project and James Bond
Time = Memory
How is it that the days drag, yet the weeks pass faster than you can say "20 Fridays until Christmas"? Well, because it's Quarantime, the explanation of which is surprisingly logical:
The passage of time as it happens (days) will be slower because of the monotony of your environment. But the memory of the time elapsed (weeks) will be shorter because time is made of events and there were fewer of those.
If you thought starting a project might slow the time it takes before you next see a bauble, you'd be right. But, how do you pick one that is worth pursuing? Over to Adam Grant: 
Interest: do you think about it in your free time and bring it up in random conversations?
Importance: if we understood it, would the world be a better place?
Contribution: do you have something novel to add?
Sir John will see you know
His Zagness, Sir John Hegarty of BBH, has been pontificating in 5 short videos designed to feel like a face-to face meeting. He covers confidence, why you shouldn't brainstorm, and the importance of your surroundings:
If you're just reading and looking at sh*t, you'll think sh*t and you'll create sh*t. So, read great stuff. Look at great stuff. Surround yourself with great people.
Maybe that should be The100's new tagline? Somebody give this guy a job in advertising!
Yours, or yours
When a brand creates a product for Costco under the Kirkland name, even though they already have their branded products on Costco shelves, it apparently has to be better than the market leading brand. And also sold at a 15-20% discount. Ouch.
Which, ladies and gentleman of the jury, begs the question: how does Costco convince brands to cannibalize themselves?
With the Kirkland products, brands don't have to spend nearly as much money on marketing. They don't need to pay for Facebook ads or run television campaigns.
The P&L for a Kirkland product then becomes a lot more comparable. Yes, the customer now has two choices, but those choices are either yours, or yours at a slightly worse margin.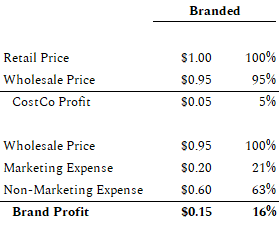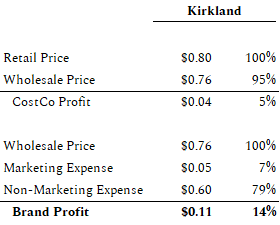 Any of you fine folk had any experience with this?
Banvertising
Banning 'junk food' advertising on UK TV before 9pm.
Discuss.
And discuss they did when the Drum invited representatives from Action on Sugar, the Advertising Association and the Internet Advertising Bureau to debate the government proposal.
All agreed that people should eat healthily, but the rest was far more contentious. Ideas floated included unhealthy foods being banned altogether (good luck), taking money away from the advertising community, and obesity rates in the poorest boroughs being almost double that in the richest.
How to write a headline in 60 seconds that people will actually click on
If you want people to open your email, click on your article, or sit up and listen when you start your presentation, you just have to remember Ann Handley's ETC method:
E: End result your customer wants +
T: Time they can get it in +
C: Conquer the objections they will have
E.g. How to reduce the threat of being delisted, in under 3 months, without breaking the bank. Try it.
PotatoPOTY
Good news! The potato photographer of the year has been revealed. And what a mash up it is. (Forgive me.)
In further positive news, could this be the greatest story about James Bond Roger Moore ever told? Genuinely brilliant.
The 0.0001%
When you start dealing with cosmic sums of money, à la Jeff Bezos's income, it can be hard to visualise. So this infographic of wealth inequality in the US is mind splintering. Keep scrolling right… No keep going… Yes, I know.