The100: Jobs to be done, efficiency reloaded & the Lucas/Spielberg bromance
---
The real event in London last week
Last week we were lucky enough to welcome 200 of you lovely readers to our event in London on liars and lying. There were no crowns, 12th century spoons or grim reapers (ummm, what was that please?), but we did have 11 brilliant speakers and a few scoops in the pub after.
I weirdly enjoyed (steady now!) giving a talk about fraud in the research industry and how to avoid it. I'd gladly repeat it for any who weren't there, or indeed share the recording. Just drop me an email.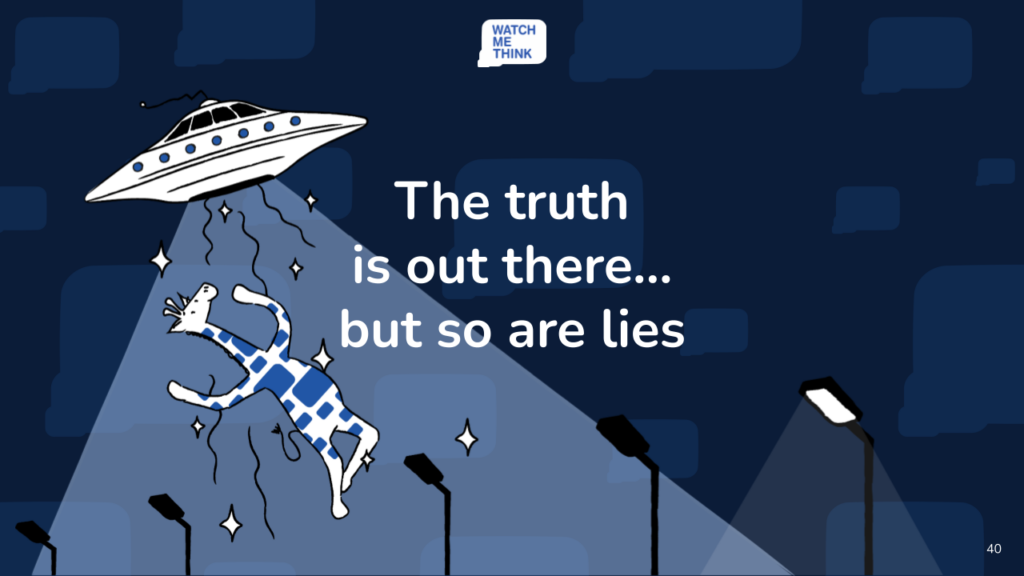 "This is the first television interview that I've done about my work"
A must watch from this week is Mad Women, all about trailblazing women in the advertising industry. Channel 4 made the excellent decision to include the truly legendary Barbara Nokes who wrote the Levis 501s laundrette and is a real character.
It showcases how sexist ads used to be. The Pretty Polly one in particular is very uncomfortable to watch. And only very recently has the depiction of 'real' become more widespread, due to that iconic Dove campaign, This Girl Can and Blood Normal. But the changes are slow and sporadic at best. I'd also thoroughly recommend attending WACL's Festival of Talent next Thursday, a day bursting at the seams with inspiring women changing the future.
Alphabet soup
The legend that is Roger Martin posted an article on fusing Jobs To Be Done (JTBD) with Playing to Win (PTW):
"Clay's classic example of the JTBD addressed by a morning drive-through milkshake showed the new and unique insights that could be gained by asking what job the morning commuter is asking the milkshake to do? But those insights don't define your strategy for you. You still need a WTP [Where to Play] — which customers with what particular JTBD are you going to target? And you need a HTW [How to win] — how is your milkshake offering going to win in serving the JTBD, not just address the JTBD?"
More acronyms in there than an episode of Line of Duty.
Story of that "classic" JTBD example, the morning drive-through milkshake, here.
The juicy details
Moving down the viscosity scale and arriving at juice…
Back in 2015 a French supermarket, Intermarché, launched The Freshest Orange Juice Brand campaign. To demonstrate that their orange juice was the freshest, they changed the name of the brand depending on the time it was squeezed. Clever.
In a slightly less joyful tale, a look back at the 2009 Tropicana rebrand that cost millions.
Millennials again
Good news! Millennials aren't as broke as we thought they were. Blamed for killing off cereal, department stores, the 9-5 and marriage (impressive), they've had a tough run. But, they're making a comeback:
"Millennials, as a group, are not broke—they are, in fact, thriving economically. That wasn't true a decade ago, and prosperity within the generation today is not evenly shared. But since the mid-2010s, Millennials on the whole have made a breathtaking financial comeback."
Efficiency, reloaded
McKinsey published their State of Organisations 2023 report and listed 10 shifts that are transforming organisations.
According to the report, over ⅓ of leaders said efficiency was a top 3 priority. In which case, I'd recommend they take a look at Parkinson's Law:
"Parkinson's Law is very much alive today: from 2009 to 2013, Chevron's capital expenditures went up by 89% and actual oil production went down by 3%. Since work expands to fit the time available, individuals can fight the Parkinson's Law by setting tighter deadlines."
And finally…
I adore Letters of Note and these exchanges between George Lucas and Steven Spielberg are a joy. They sign off with "Your pal". Ace.
The spin off technologies NASA have developed whilst trying to blast things into space are pretty impressive. The list also tells you what they weren't responsible for, including Teflon, Barcodes and Velcro.
Until next time, your pal
Alistair