The100: Pricing psychology, Amazon tactics and evening walks in Kyoto
---
The Kolenda Code
Nick Kolenda has picked up a controller, hammered in Up, Up, Down, Down, Left, Right, Left, Right, B, A and unlocked the pricing cheat code. Behold his 42 pricing tactics, including:
Show prices in small fonts
Insert large numbers near prices
Distinguish the most expensive option
Mapping the forest
A certain Byron Sharp once said that paid search is like shelf-space. And so it'd make sense that Amazon's ad business is now doing very well for itself. But which companies is it best for? Over to you, Dr Grace Kite:
"The vast majority of branded searches take place on Google because people who are committed to buying from a particular brand head to that brand's website via Google to buy direct […] if you're already big, and people already search directly for you, there may be less to gain from paying to appear amongst the jostle of suppliers that Amazon's algorithm serves up."
Cutting by investing
Professor Zeynep Ton published The Good Jobs Strategy back in 2014. For those who, like me, appear to have been living under a rock for the past 9 years, here's the rundown:
"Minimizing costs is profitable. What most companies might not realize is that maximizing contribution is also profitable. It just requires a different system and set of disciplined choices."
That different system and set of disciplined choices is built upon 2 mutually dependent components:
Invest in people: higher wages, more benefits and clear career paths.
4 operational choices: focus and simplify; standardise and empower; cross-train; and operate with slack.
I know correlation doesn't = causation, but…
If I had a beard, I'd have been stroking it whilst reading Rob Campbell's recent blog: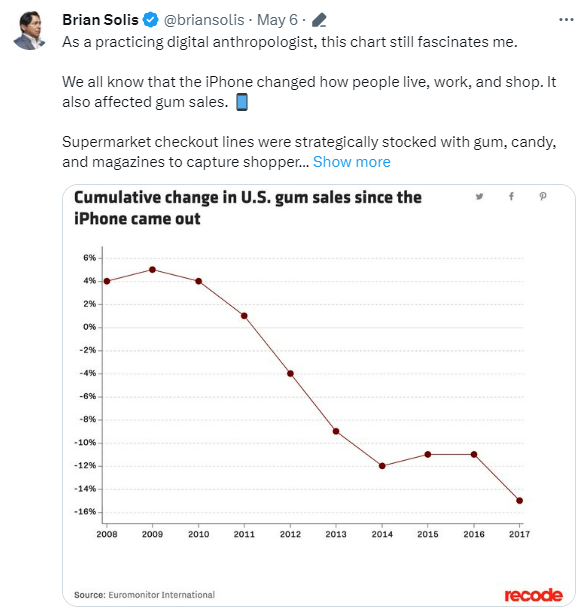 "Like all good conspiracy theories, there's definitely enough to make you think it could be true. And it could be. Maybe not entirely, but definitely an influence … because the smartphone has become the modern day cigarette … where any moment of pause is a moment to scroll and I can't think of any moment of pause like queuing up at a supermarket till."
@Sugar&GumReaders – Whaddya reckon?
And finally…
Someone out there made a website that mixes live air traffic control with lo-fi beats. Why does this work so well?! Over.
Adding to the ambiance are these virtual walks. I particularly enjoyed my evening stroll in Kyoto.
And last, but certainly not least… The French Football Federation partnered with Orange on an advert to combat negative attitudes towards women's sport and promote the 2023 World Cup. It is unbelievably good. Cap well and truly doffed.
You've had Fran on the keys this week whilst Alistair is in Zanzibar – the lucky badger! Hopefully none of you have fallen asleep and let's keep any typos between us, eh?! 🤪