The100: Creativity conditions, ambiverts and poolside.fm
Are you a Monica or a Ross?
A Hufflepuff or a Ravenclaw?
We like to put ourselves into brackets.
Be it as characters in TV series or movies; in colours, numbers or as mythological star signs.
Of all these brackets the one of the most typed about is arguably if you're an introvert or an extrovert.  
Only about 5% of people are die-hard introverts or extroverts.

Many people have slight leanings in one direction or the other, but inhabit the middle of the graph. Yet all of these middle-of-the-road ambiverts have been misled into thinking that they belong firmly to either the introvert or extrovert camp.
That's problematic because:
Any time we draw a firm line in the middle of a spectrum, we erase anyone whose reality is more complex than that.

The labels that we adopt influence how we see ourselves, and what we expect ourselves to be capable of in the future.
I'm a quasi-extrovertal-Monica, by the way: all-the-way loud-and-proud OCD.
Beware the social virtue seduction
Asides from the risk of labels becoming a self fulfilling prophecy, they can also be dehumanising and massively detrimental to empathy.
Behold the empathy delusion.
All 60(!) minutes of it are a worthwhile watch, to a Monica like me. But if you're short of time, their recommendations are from the 40 minute mark – one of which is to not be seduced by social virtue or brand purpose:
If we're being honest with ourselves, social virtue marketing strategies are not necessarily grounded in the needs of the mainstream… We need more scrutiny of what the social virtue actually is and what it means to people, because it's of little use if it just widens the gap between us and the people that we're trying to influence.
Look no further than this lovely (very) short story from Rob Campbell on one of the finest examples of true brand purpose.
Rules of Alchemy
Rory Sutherland, one of those most eloquent of living beings, lists his 10 rules of alchemy in 20 minutes of video joy:
It doesn't pay to be logical when everybody else is being logical.
(Don't forget to register for Nudgestock: the behavioural economics event the esteemed gentleman above helps to put on. The line up is pretty special. And, even better, they've made it free.)
In more alchemistic tips, Ed Cotton released a superb deck on the new conditions for creativity. 
'Data-driven insight' is a terrible thing to say
Tom Goodwin, Head of Futures and Insight at Publicis Groupe is prepared to state what he thinks and provide a genuine perspective. Tom tell us what he has learned throughout his career, his experiences of building a personal 'brand', and how agencies are changing:
… we now need to speak 'the language of business […] We talk about five-step attribution models and cloud-based data systems that drive personalisation. We'll say terrible things like 'data-driven insight'. Which doesn't actually mean anything, but is an expression that makes everyone feel better.
America's most illegal record
The drive from NYC to LA is on my bucket list, but to be traversed at a somewhat more leisurely pace than those who just set its new speed record. 
They managed the 4507km journey in under 26 hours!
Average speed of at least 173km/h !!
Jeez.
Apparently the new Cannonball Run record holders will be releasing a documentary.  Surely they'll all be wearing orange tops?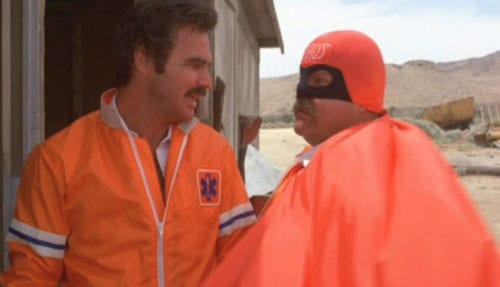 When I do make the trip, I might take a small diversion south to America's quiet zone –  Green Bank, West Virginia.
Welcome to Green Bank, population 143, where Wi-Fi is both unavailable and banned, and where cell phone signals are nonexistent.
Sounds kinda nice there.
A treat for your ears
Samara Ginsberg has been doing some very clever stuff with her Cello.
She videos herself playing all eight parts of different 1980s theme tunes and then plays them back. It's lovely. Especially the Knight Rider one.
Still with your ears, but changing the genre: Poolside.fm has zero staff and had zero marketing. Yet they still managed over 1 million listening sessions in the last year.
Poolside FM was conceived one awfully rainy summer in the Highlands of Scotland – a virtual vacation, if you will. The audio and video streams are curated to inject a healthy dose of serotonin into your brain.
Yes please.